Pine Mulch | $40/yard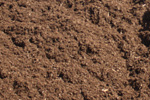 This is a lighter colored brown mulch sourced from New Hampshire. It keeps the soil moist below the surface. It is light and fluffy, making the task of spreading it much easier. Pine mulch is best for acid-loving plants and offers a timeless look that adds to any natural setting. 
Please note that Massachusetts sales tax is applicable to all landscaping products.