Welcome
Hubbard's Farm in Princeton, Massachusetts, is your source for farm-raised meats and eggs, quality yard and garden materials including a variety of bark mulches, rich farm grown loam and compost, decorative stones, quality feed hay, and wood pellets and Envi-blocks for your energy efficient pellet stove.
We look forward to doing business with you at the farm!
---
Ask About Membership in Our Meat CSA Program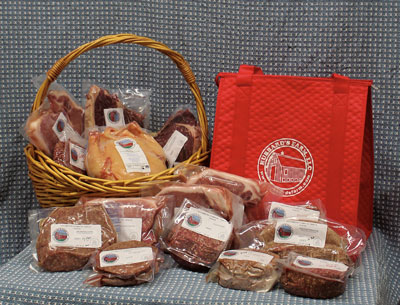 Local farms throughout Massachusetts and across the U.S.A. are offering Community Supported Agriculture (CSA) as a way to introduce local food sources to area residents, while sustaining family-owned farms.
Hubbard's Farm Meat CSA presents an opportunity for you to invest in local agriculture. By becoming a member in our CSA, you will make an advanced financial commitment to our farm. In return, you will receive a portion of the farm-raised meats we produce. We offer four levels of membership. To learn more about the packages and how the program works, please visit our CSA Page or download the PDF Flyer here. You can also apply online with the Online Enrollment Form.
---
A Family Affair
Hubbard's Farm, once a dairy farm, is truly a family owned and operated business. Nancy Hubbard and her recently passed husband, Brad, are third generation. Their kids and grandchildren make up the fourth and fifth generations who also live and work on the premises. When you do business with Hubbard's Farm, you'll be treated like family too.
Read more about us at "A Legacy Lives at Hubbard's Farm," The Landmark, July 5, 2017
---
Our farm-fresh eggs and meats can be purchased at our Farm Store. We deliver many of our landscape products and wood pellets by the truckload, or you can pick them here at the farm by calling ahead. To place your order and arrange for delivery, call 978.464.2041 or email: info@hubbardsfarm.com. We accept cash, checks, and Visa and Mastercard payments.
---
Visit The Scoop page to see what's going on at the farm! Keep up with our events, sales, and promotions. To be the first to know, Join Our List to receive our monthly newsletter right in your inbox.