NOTICE:
We experienced a small, electrical fire in our office. No one has been hurt. We have some cleanup to do, so our hours this week only (October 20-24) will be reduced as follows:
Tuesday Closed, Wednesday 2-4, Thursday 2-7, Friday 10-12, Saturday 9-1
During this time, we will be selling from our market trailer out front, so please stop by the trailer. Do not try to go into the barn or office.
All orders on file are intact. We are most easily reached by email at this time. Thank you for your patience.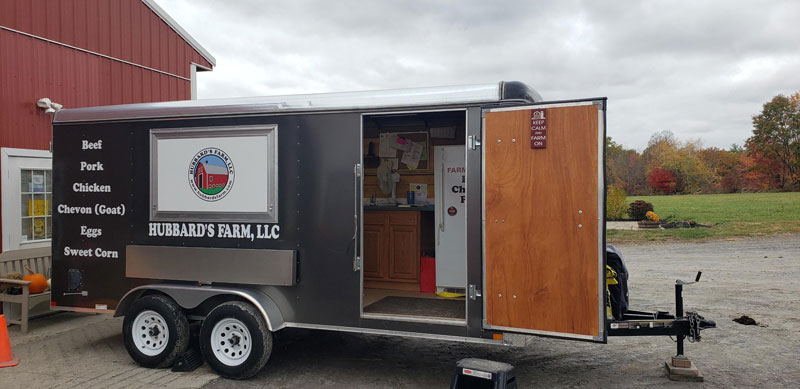 ---
COVID-19 Policies
REQUIREMENTS FOR ALL FARM VISITORS
The Farm Stand is open to foot traffic as of June 3, 2020. As per Governor Baker, we have established safety protocols to protect our staff and customers. We require all customers to wear face masks that cover nose and mouth while on the farm premises, whether inside or outside. Please observe social distancing guidelines out of respect for the safety of all. We do not have a public bathroom or hand washing station, so we ask that you bring and use hand sanitizer. We are sanitizing door knobs, freezer doors, and surfaces in the farm shop frequently to reduce the possible spread of COVID-19.
MEATS
Product availability varies from day to day. Bundles and Bulk meats are currently unavailable. Please check our Meat Price List for updates on prices and limits allowed per purchase.
PELLETS and LANDSCAPE MATERIALS
PELLETS and LANDSCAPE MATERIALS for PICK UP at the FARM: We will not be assisting customers with hand-loading loose or bagged pellets or Envi-blocks. If you have purchased a whole pallet of pellets, using the forklift, we can place the whole pallet into your truck. We will use the tractor to load your truck or trailer with bulk landscaping materials. Please call ahead – 978.464.2041 – and pay over the phone.​
PELLETS and LANDSCAPE MATERIALS for DELIVERY: Wood pellets, mulch, and other landscape materials are still available for delivery.
Pallet jack in-garage delivery service has resumed for the time being. Now is the time to order if you want your pellets delivered into your garage. If there is another COVID-19 surge the pallet jack will not be available and all pellets will have to be dropped outside. Please make sure your garage is empty when we are scheduled to deliver. For everyone's health and safety, our driver will not handle or move boxes, bikes, laundry baskets or other items. Additionally, the pallet jack requires plenty of space to maneuver around. If the garage is not cleared, the pellets will be dropped outside.

We insist that you DO NOT come outside to engage with our driver for any reason.

Outdoor delivery: Please put a marker where you want your pellets or landscape materials to be dumped. Our delivery trucks are heavy, commercial vehicles that can cause ruts and damage to your lawn, septic system, or yard. We recommend driveway delivery for both landscape materials and pellets. If you want a delivery made off of the hard top, you are taking full responsibility for damage that may occur to your property. We do not cover repair costs.

If you have to pay with a check, please place the check in a zip lock bag or an unlicked envelope and attach it to the marker. Our driver has been instructed not to go up to your door, into your garage or shed, etc. to pick up the check.
---
Welcome
Hubbard's Farm in Princeton, Massachusetts, is your source for farm-raised meats and eggs, quality yard and garden materials including a variety of bark mulches, rich farm grown loam and compost, decorative stones, quality feed hay, and wood pellets and Envi-blocks for your energy efficient pellet stove.
A Family Affair
Hubbard's Farm, once a dairy farm, is truly a family owned and operated business. Nancy Hubbard and her recently passed husband, Brad, are third generation. Their kids and grandchildren make up the fourth and fifth generations who also live and work on the premises. When you do business with Hubbard's Farm, you'll be treated like family too.
Read more about us at "A Legacy Lives at Hubbard's Farm," The Landmark, July 5, 2017
---
Our farm-fresh eggs and meats can be purchased at our Farm Store. We deliver many of our landscape products and wood pellets by the truckload, or you can pick them here at the farm by calling ahead. To place your order and arrange for delivery, call 978.464.2041 or email: info@hubbardsfarm.com. We accept cash, checks, and Visa and Mastercard payments.
We look forward to doing business with you at the farm!
---
Visit The Scoop page to see what's going on at the farm! Keep up with our events, sales, and promotions. To be the first to know, Join Our List to receive our monthly newsletter right in your inbox.