Envi-8 Blocks, 6-Pack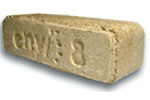 8000 BTU per lb., size 3.25 "x 2.75 "x 9.5" Average weight 3-4 lbs. each
For use in wood stoves, fireplaces, fire pits, and wood furnaces.
Made from dry, clean, recycled hardwood sawdust, and shavings.
Longer Burning Time. Less Mess. Less Ash Residue. Convenient.
PLEASE NOTE: Your Envi-blocks will be delivered within 1-6 weeks of your order. You will be contacted a few days before our driver delivers.