Royal Wood Shavings Equine Bedding Pellets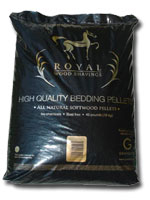 These all-natural, softwood pellets are dust-free�and manufactured specifically for animal bedding.
The pellets are sold in 40 lb. bags and delivered by the pallet.
This is not a product for your pellet stove.
PLEASE NOTE: Your order will be delivered in 1-3 weeks. You will be contacted a few days before our driver delivers.